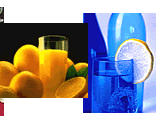 Landlord and Landlady Kevin and Sarah Reed
- "The Beehive is our fourth pub so you
couldn't say we are short on experience.
Before taking The Beehive we were based in
Wisbech at The Royal Standard - our first
Greene King tenancy. We moved in to that pub
on the day of the polar eclipse - in fact, we
were in court obtaining our protection order
when most of the UK was in darkness.
Before that we were at the Vinetree Inn in the
picturesque village of Randwick, Stroud, in the
county of Gloucestershire. Our first pub was
The Crown Inn set in the village of Colwall at
the foot of the Malvern Hills. Colwall is a lovely
village located between Ledbury and Malvern.
"We have been holding the reins here since January 2000 and we are proud to have introduced a
popular menu of predominantly home-made food. If you are thinking of visiting us it really would be
worth giving us a ring, our cosy lounge really can fill up rapidly. Value for money is extremely
important to us, we are not here to blow a hole in your pocket, we are sure you will be impressed
with our prices, check out our Menu page. We also offer a daily Specials and Sweet menu or if a
light meal will do, our baguettes and jacket potatoes are served straight from the oven - piping hot!
Food features through the week include of course, a traditional Sunday Lunch and Senior Citizens
Specials on Tuesday and Thursday Lunchtimes."
"As well as serving good home-made food, we are
after all a pub! Which means a well stocked bar, with
realistically priced ales, spirits and soft drinks. If you
need a guarantee of excellence, our real ales were
recently awarded the prestigeous 'Cask Marque Award
For Excellence' for the second year running. Greene
King IPA is always available with a guest beer sitting
alongside and a good choice of three lagers, Carling,
Carlsberg and Stella Artois, plus Ruddles Smooth,
Greene King XX Mild, Strongbow and we are told, one
of the best pints of Guinness around. If you have a
taste for wine, we offer Basin and Trough size glasses
or there's a list of six bottled wines."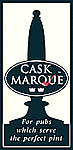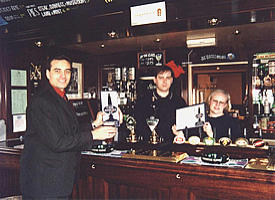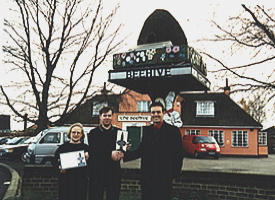 Cask Marque Presentation from Glenn Smith of Greene King.
"We have a games area in the bar which houses a pool table and dart board. Cards, dominos and
crib boards are always available by request. The pub supports a Monday night 8 & 9 ball pool
team called, 'The Marksmen' (see the link below) and also a Thursday night 8 ball team."
Other weekly events include the R.A.F.A. Bingo on Tuesdays at 9pm (in the bar), it's been going
strong for 41 years and at 10p for life membership, really can't be bad. Its well attended by the local
folk - there are no huge prizes - just a night of fun and socialising. New members are always
welcome and no connection with the actual Royal Air Force Association is needed.
From the Norwich outer ring road - turn east north east onto the A1151 which is signposted
'Wroxham & The Broads', take the fourth turn on the right - 'Cannerby Lane' and we are on the left
by the village green.
Monday - Thursday & Saturdays - Noon til 3pm & 6pm til 11pm
Friday - Noon til 3pm & 5pm til 11pm
Sunday & Bank Holiday Mondays - Noon Til 3pm & 7pm til 10.30pm.
"It would be fair to say that when we took over The Beehive, there really was not much of a pub to
start with, but after a touch of TLC, many hours with a screwdriver, hammer and the 240 volt 'big-
boys-toys', the pub began to take shape and became clean and functional again. Since then, we
and Greene King have jointly invested in a refurbishment of the bar, toilets and external
redecoration. Oh yes, and we also reduced the three foot tall wilderness into a blooming nice beer
garden! It would be wrong to say we did it all ourselves, many of our regular customers have given
us the benefit of their services with gardening, plumbing, carpentry and electrical works." (Even
Kevins Great Aunt Dawn came along from nearby Cawston to set about the task of removing a
forest of brambles!)
Please note. This is an historic site hosted by Kevin Reed. The Beehive Pub no longer exists as a pub.
Greene King sold it to The East of England Co-op group in 2014. Kev was the first Greene King tenant
to operate the pub between 2000 and 2002. Do feel free to contact us with any comments or memories of the pub!